*essential Vitamins & minerals
Leaves and stems have a long history of being widely consumed by humans across many cultures and regions. In our present era, greens and micro-greens are even more extensively utilized as part of our diets.
Greens and microgreens contain higher amounts of protein and essential minerals than fruits, along with low to nil sugar.
Rocket, Mustard Greens, Cress and Soft Leafed Lettuces such as Baby Cos, Romaine and Frill Leaf along with Chives and Shallots are the heart of the Living Kitchen.  
All are easy to grow, year-round, both indoors and outdoors.
Raw tender young greens are easy to digest and packed with essential, nutriments, vitamins and minerals such as calcium, copper, iron, magnesium, manganese, phosphorus, potassium, sodium, and zinc, which are all critical components that support vital health, energy and prevent disease.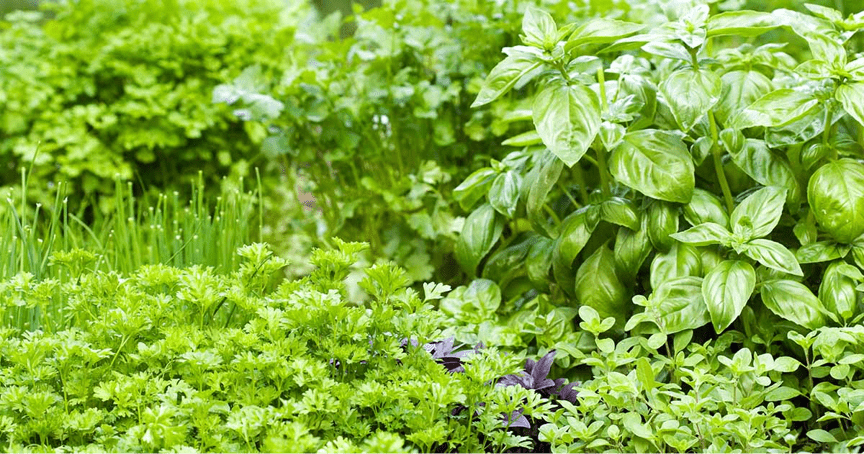 Soft, mild herbs such as parsley, cilantro and dill, along with garlic and ordinary chives, together with shallot tops, make valuable flavorful additions to salads and raw nut butters as well as cheeses. 
Fresh chives are rich sources of Pyridoxine, Pantothenic Acid, Niacin, Riboflavin, and Thiamine in good proportions, as well as, high amounts of Vitamin A, K & C, Folate and essential minerals such as copper, iron, manganese, zinc, and calcium.
Cilantro also commonly known as coriander has anticonvulsant properties, anti-cancer, anti-inflammatory, antifungal, antibacterial, cardiac, gastric and analgesic effects.
Lutein, beta carotene, and zeaxanthin are three carotenoids in parsley that help protect your eyes and promote healthy vision. Carotenoids are pigments found in plants that have powerful antioxidant activity. Parsley is also a great natural breath freshener and teeth-whitener.
From seed to leaf usually takes between 2-3 weeks – longer in cooler climates. Micro-greens contain 40 more times Vitamin C, E & K compared to fully grown leaves.
All these types of micro-greens are easily grown in trays in either a mix of seed-raising mix and potting mix, or planted out into well-manured raised beds. It is important to keep micro-greens moist, however not sodden to prevent mildew and mould which are precursors of disease that will eventually kill the plants.
Microgreens can be cut with scissors or carefully 'tipped', leaving the plant to grow-on after the first harvest of the leaves. Used in salads, rocket, cress and mustard greens, combine well with lettuce, chives and fruit such as tomato, papaya, cucumber, avocado, green beans, snow peas and mango dressings. 
No need for salt, oil or other condiments when picked right before the meal.