investing in communitarian identity,
education, bonding & evolved ethical culture
Secular as well as religious cultures across the global have long valued meal sharing as a critical form of cultural investment. For millennia, meal sharing has provided the conduit to develop cohesive community identities that has advanced the instruments of sharing wealth through fostering trust that gives rise to harmonious contributing and reciprocal relationships. As such, communitarians recognise and respond accordingly to the call to congregate at least once a day. The communal meal gathering provides the opportunity for all to develop their cultural identity as communitarians, committed to the creeds of social, economic and personal progression towards harmonic, ethical relationships with each other, animals and all elements of earth and cosmic contemplation. 
Daily investment in creating communitarian culture is a critical component of 'building the commune', which in turn builds 'common wealth' providing a practical demonstration to the world that it is possible for the human family to sustain peace, security and prosperity for all. 
Above all else, the daily communal meal is an act of solidarity, of union, of friendship and deep abiding love.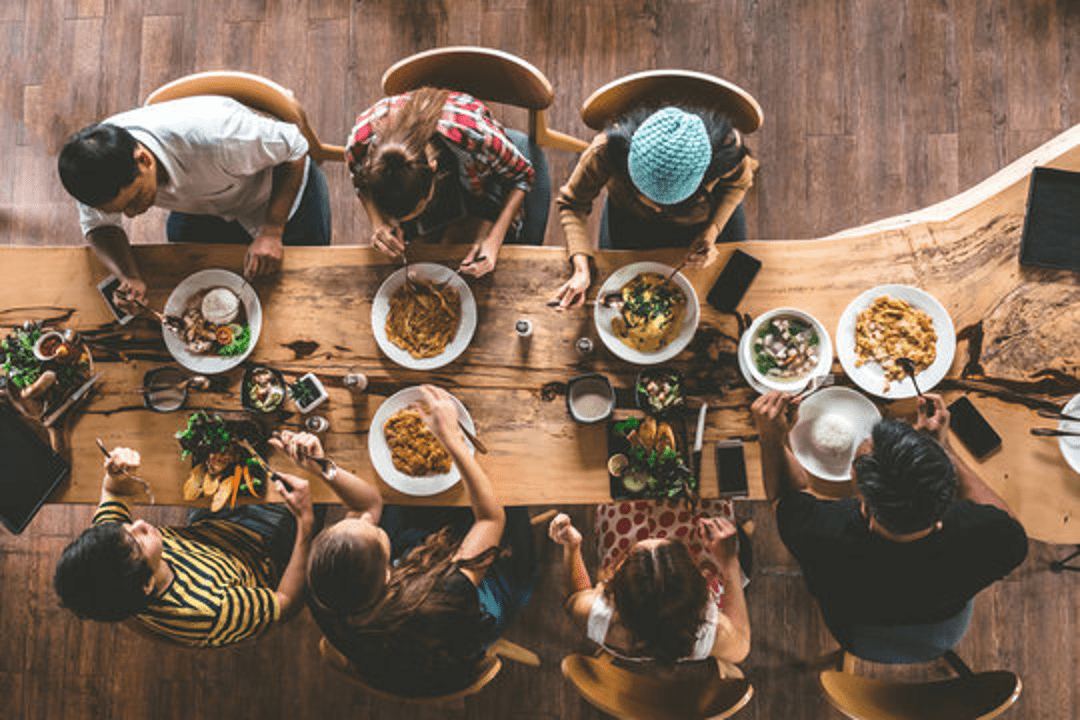 communal gathering - nourishing bodies,
minds & community based social security
Communitarians come to the table each mealtime with the expressed purpose to nourish their bodies with healthful energising food and drink, and likewise to avail themselves of the social nourishment that is on offer at the daily gatherings of the entire communal union.
The majority of communitarian unions share one or more meals per day. Depending on the specific union's schedule of social and production activities, Sunday to Friday, it is usual for communal unions to come together for the daily communal meal in the evening, just after sunset. However, a number of unions schedule the main communal meal gathering at noon, or later, around 2pm at the conclusion of day's productivity activities. 
A midday shared meal is usual for unions engaged in common wealth production activities, such as rural pursuits. These unions, often share all three meals in a formal organised setting, on-site on the farms, aided by a mobile kitchen and dining facilities.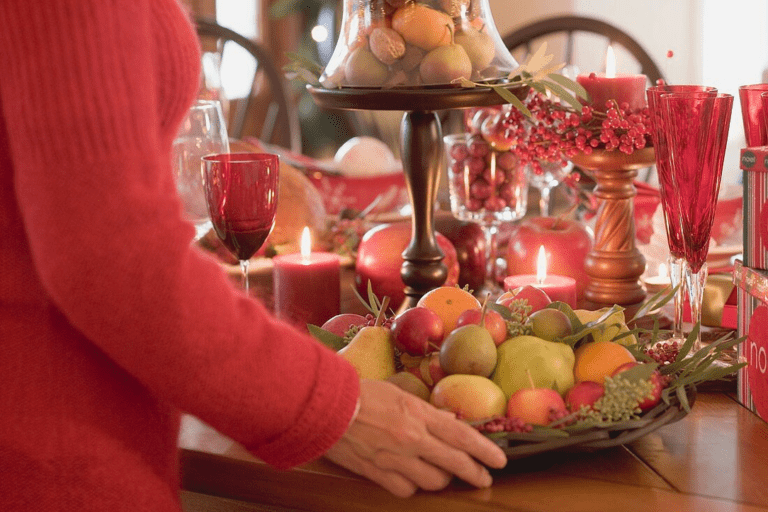 provisioning the day of rest
Generally, the communal unions observe Saturdays as a of rest and social fasting as well as fast from food.  Those who contribute their skills and labour to operating the living kitchen, also rest. However, the communal dining area remains accessible. On Friday evenings, the tables behind the main seating area are stocked with fruits and nuts and even a quantity of gourmet takeaway meals for those heading off hiking or adventuring, or else intending to break their fast in the evening.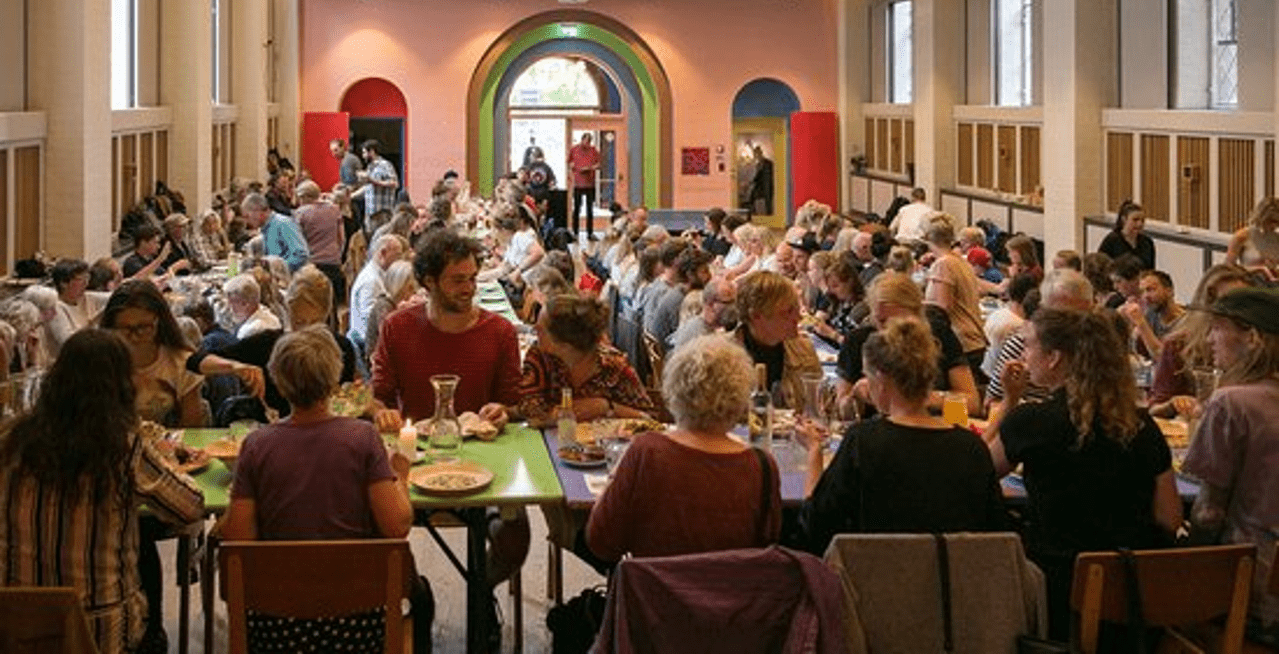 The Communal Table
- laboratory of ideas & ideals
The daily communal meal gathering provide the opportunity to meaningfully connect, take risks by initiating conversations, (put ourselves out there) and be changed by the experience of extending the hand of friendship to those who may not be in our normal social orbit. The communal table is a laboratory of ideas. 
For this reason, communitarians attempt not to sit in the same seat at every gathering. All grades of the communitarian bands, constantly, intentionally and diligently seek new levels of association with the conscious objective to advance and strengthen relationship with all others in attendance, whether they be visitor or long-term fellow associate.
This pattern and expectation of 'rotation of association' at the communal meal gatherings, provides the soil and growing conditions for deeply rooted trees with many strong robust branches, capable of sustaining the weight of the fruit of 'Big Love' able to nourish and sustain enduring 'Communal Unions'.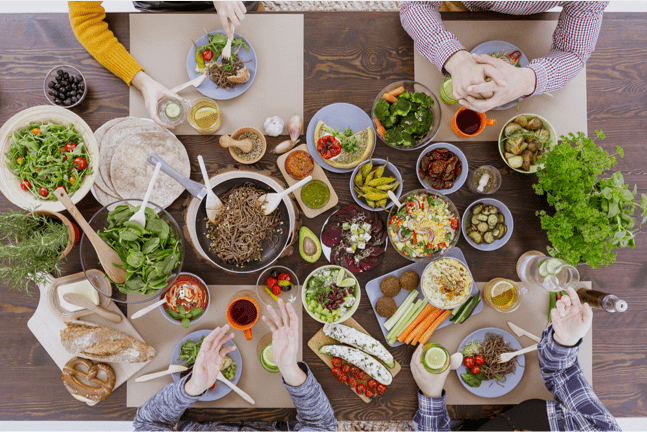 breaking bread together is the sign & symbol of the Communitarian principle & practice of 'Sharing All with All'
Attendance at the daily communal meal gatherings is an affirmation – a reaffirming of our place, purpose and privilege with and within the whole of the communal union associations on a local, regional and international level. Before, during and after sitting down to sup, communitarians pause to ponder the potency, privilege and revolutionary act of gathering, association, friendship and camaraderie
Communitarians gather to sup with the understanding that we 'break bread' together as a sign and symbol of who we are as a people. Sharing our meals, signifies the communal union's commitment to 'hold all things in common'. The communal meal gatherings must not to be forsaken, disregarded or cancelled out by competing commitments. It is around the communal meals that all schedules of common wealth production and personal agendas must revolve – not the other way around. The daily communal meals are the glue that bond individual communitarians to the communal unions at a local, regional and international level.
The daily gatherings remind the unions of the path forged toward perpetual peace through the practice of common wealth as demonstrated by communitarian communities that have left beyond valuable examples of 'sharing all with all' from previous eras. We remember and pledge to carry forward their examples of living by a common purse; eating from the living trees; respecting, protecting and loving all creatures great and small; overcoming vanity, sloth, waste and greed; diligently practicing right livelihood; evolving sexual expression and relations; practicing gratitude, seeking daily alignment with the earth and cosmic elements…
The daily communal meal is central to the communitarians life purpose with is to carry forward the legacy of peace and share common wealth prosperity. We share our food, our drink with all others, carrying forward the promise and privilege that through our example, the cosmic rule of law of 'sharing all with all' will take root upon the Earth to affect the quality and quantity of life and liberty for current and all further generations.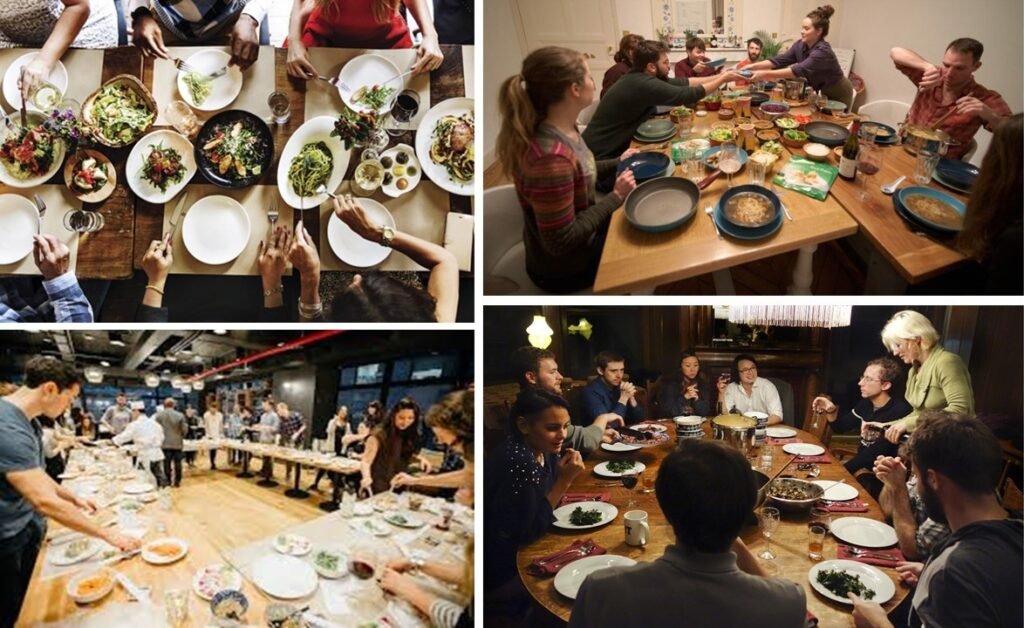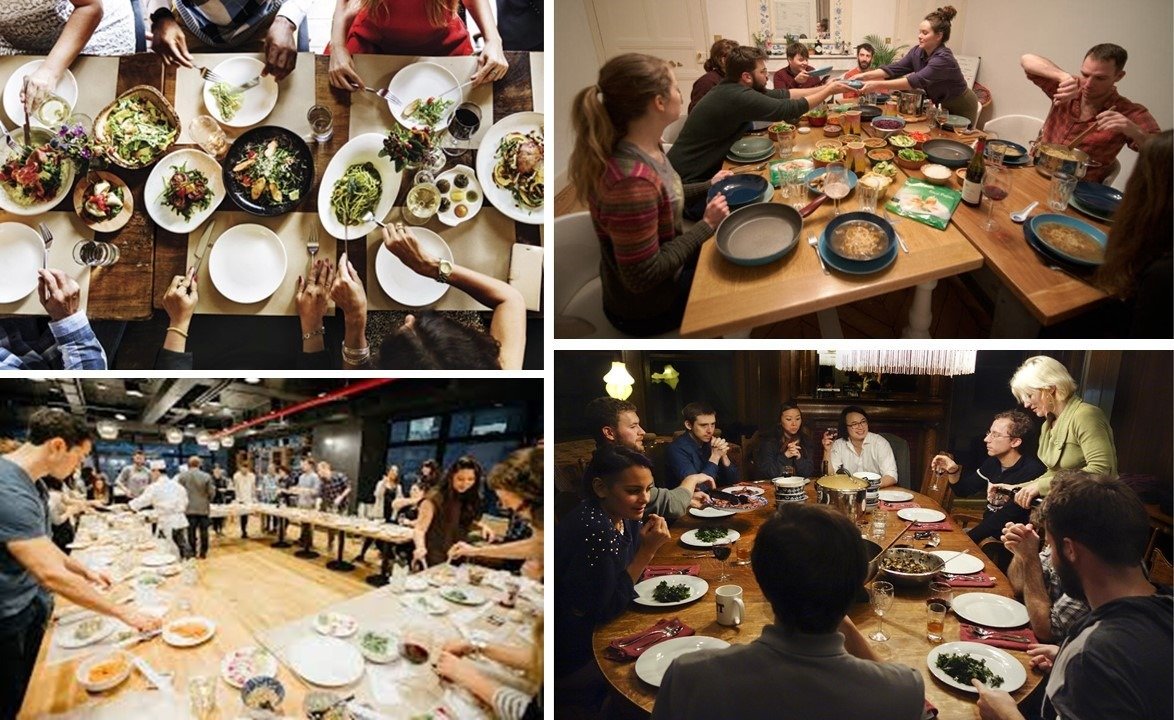 practicing the art of hosting
communal meal gatherings
At each communal meal a group host is appointed. Even if it is as simple as a fruit breakfast, there is always a group host appointed to oversee the gathering. The hosts are charged with the responsibility of making the gathering memorable by embracing a specific purpose. Instead of focusing on just the menu, table layout, music and seating arrangements, hosts are called to focus instead on stimulating deep and meaningful conversation, broadening connections, and illuminating the purpose of bringing everyone together. 
The hosting group decides the theme for the shared meal by asking 'what is the purpose of gathering today'. As an example, it might be to share news or requests for support from other communal unions within the region or overseas or else to learn about the health benefits and optimal growing conditions of different living foods.
The daily communal meal gatherings provide the opportunity for communitarians, as a group and also as individuals, to demonstrate their measure of mastery of the principles and practices of communitarian union. Gatherings become joyful and even socially productive occasions when planned and prepared with intelligent care and consideration for the needs of those attending.
It is often said amongst professional caterers that food is drama, the table the stage, and the cook the tamer of guests and hero to host and guests alike. Even if the taste is no different to the usual food on offer, guests often feel more satisfied if the food is presented festively. When there is well-thought-out structure, i.e., presentations of subjects of interest, music, dance, drama, some type of intellectual stimulation and of course merriment, gatherings become memorable occasions. The communal meal gatherings are a happy time – a time to celebrate all that has been achieved and all the unions are advancing toward.  
Hosting a gathering is an art which take practice and requires certain levels of skill to be mastered. As such, hosting is a skill to be practiced with willingness to try with a spirit of adventure, daring and willingness to learn from others as well as our own mistakes. It is not enough to lay a table and put food out. The hosting party must be prepared to consider the needs of those attending. Likewise, it is the role of the guests to show appreciation, to have manners and display etiquette.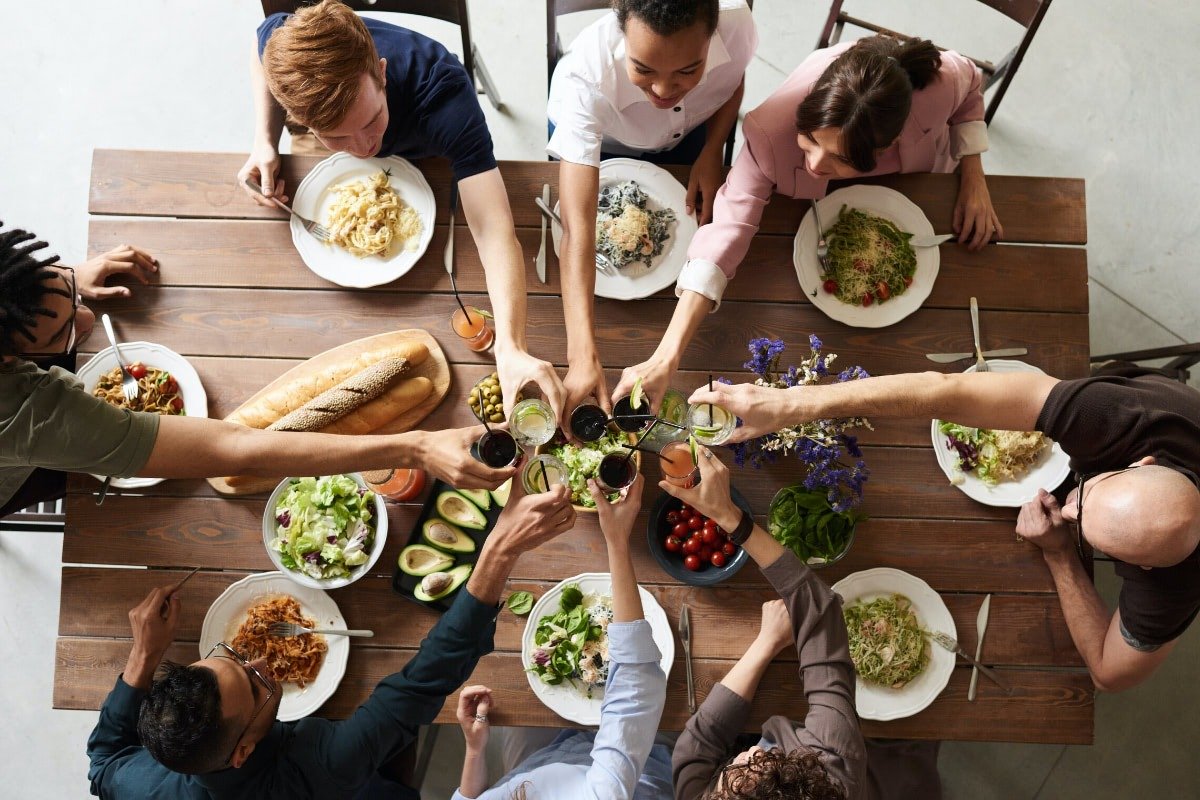 setting the communal table for peace & reconciliation
The table at which communitarians sup is the place where we lay down our arms and accept reconciliation if there has been conflict. Just sup. Resolution will come later at the Gestalts. The communal table is set for peace. There are no harsh words spoken, nor is sarcasm bantered about as a form of entertainment. 
Shoes are left outside the door, as are conflicts, resentments and tales of woe. These are reserved for sharing at the appropriate time with trained and experienced counsel during the weekly Gestalt session offered as group workshops and also as private sessions.